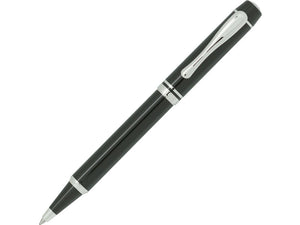 5280
5280 Ambassador Black/Silver Ballpoint Pen
Regular price
$125.00
$125.00
The 5280 Ambassador series was inspired by the old Waterman LeMan Gentleman's pens.  Admired for it's perfect weight, size and extraordinarily elegant design the 5280 Ambassador seeks to re-capture this manufacturing marvel.  
The cap features a satisfying and secure snap-on closure while the brass barrel is coated with a very thick and rich lacquer.  Each 5280 Ambassador pen carries the 5280 logo on the emblem that adorns the top of the cap and is packaged in a very high-quality gift box.  
The 5280 Ambassador pens are the very definition of bang-for-the-buck.  Just pick one up and you will be amazed that we have packed so much quality in such a small package!
The ballpoint features a Schmidt P900M Parker-style refill making it extremely easy to find replacement refills. 
Weight: 2 oz
Size: 5.75" x .5"
---
More from this collection