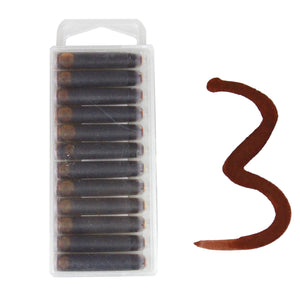 5280 Collection
5280 Canyon Brown Fountain Pen Ink Cartridges - 12 Pack
Regular price
$5.95
$5.95
One thing we have plenty of in Colorado is brown.  I guess that's what comes from living in an arid climate.  Brown can be beautiful though, whether it's admiring a canyon that has been carved out over hundreds of years or our 5280 Canyon Brown you ink you will learn to love this color as much as we do.  With excellent pigmentation and ultra-low viscosity you'll love using our 5280 inks.
Color: Canyon Brown
Size: 12 Ink Cartridges
This ink works with many major brands such as Montblanc, Waterman, Faber Castell, Visconti, Montegrappa, Pelikan and many, many more...