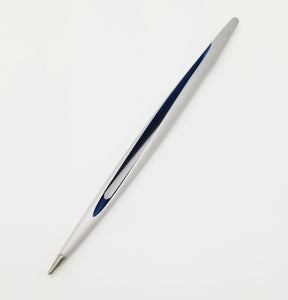 Napkin
Napkin Pininfarina Cambiano Aero Blue/Silver Aluminum Inkless Desk Pen NP01578
Regular price
$85.00
$0.00
Description
Stunning in its simplicity, the Napkin Forever Pininfarina Aero uses negative space to great effect. The partially hollowed-out aluminum body creates fluid, graceful lines that evoke a twisting motion or the symbol for infinity. Inside, youll find an unexpected burst of color. And because its inkless, this is one pen youll never have to refill. The patented Ethergraf metallic alloy tip replicates the feel of a pencil but is permanent and totally smudgeproof. As confirmation that the Italian-made Aero is equal parts writing instrument and work of art.
Features
Aerospace-grade aluminum body
Ethergraf metallic alloy tip
Inkless design
6.3" length
Designed and made in Italy
0.6 oz weight
This pen is in brand new condition but does not come with any packaging.
For those not familiar with the Napkin pens they have a metallic alloy tip that allows them to write on paper (similar to a pencil) without the need for ink.  In fact, the Ethergraf tip never needs to be changed and will not wear down over time.