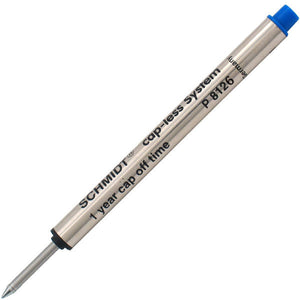 Schmidt
Schmidt Short Capless P8126 Blue Roller Ball Pen Refill (Fits Retro 51 REF57P)
Regular price
$5.95
$5.95
Schmidt Short Capless P8126 Blue Fine Roller Ball Pen Refill
This roller ball refill from Schmidt writes like a dream with it's liquid-y smooth ink.  What's even more amazing about this refill is that it can be left un-capped for a long period of time and yet it will not dry-out.  Pretty incredible if you ask me.  
Dimensions: 3 15/16" x 1/4"
Color: Blue 
Point Size: Fine
Made in Germany.  Fits all Retro 1951 Tornado roller ball pens and several others.  
---
More from this collection